Thalassery
Thalassery is half an island lying on the banks of the Eranjoli river and surrounded by the Arabian sea. Just like the seven hills on the banks of the Tiber river helped Rome, become a great Empire, there are seven hills in Thalassery which have helped its prosper and become a legendary town. These hills are Dharmadam kunnu, Koduvalli kunnu, Illikunnu, Chetam kunnu, Morak kunnu, Mailam kunnu and Vayalalam kunnu. The eranjoli river and Dharmadam river flow through Thalassery creating a water ring around it. As Thalassery has several hills it is also known as the 'City of seven hills'.
Thalassery is a healthy and picturesque town situated upon a group of wooded hills running down to the sea, and protected by a natural breakwater of rock.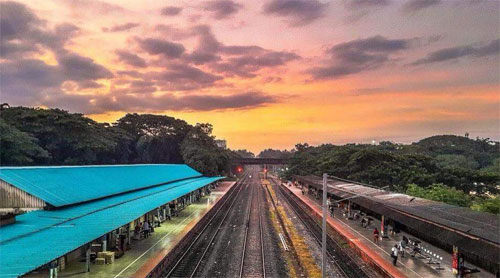 Thalassery is one of the important town on the west coast of Kerala which has the waves of the Arabian sea beating on its sides. The town has Dharmadam Panchayat in the North, Eranjholi in the East, Kodiyeri in the west and New Mahe in the south. Thalassery Municipality was formed on November 1, 1886 as per the 10th Act of 1865. It was known as Thalassery Commission at that time. The first President of the Municipal Commission was the Malabar Collector G.M. Bellard. An European Lawyer named A.F. Lamaral became the first Municipal Chairman in 1885, when Thalassery became Municipal Council and that time the municipality measure 7.05 sq.kms. in area.

Because of sea erosion the town has lost a lot of area. The rocky area in the sea which one can see at around 350 meters from the coast was once the fish market of Thalassery. The sea walls built by Overberry saved Thalassery from fruther sea erosions.
The present municipal office was the head office of the Government Brennen College in its earlier days.