Thalassery has got an ancient visual art tradition. Thalassery which got its importance as a centre for Chirakkal, Kottayam and Kadathanad Kingdoms and as an educational centre can claim, even though it cannot be claimed as highly rich but a notable tradition, of painting and sculpture.

In his research on the ancient civilization of Kerala, Dr. M.D.Ragavan has recorded about the cave paintings at Chellath near Punnol in Thalassery. Those caves no longer exist today. However the findings from those caves regarding the use of Red and Black based colour combinations has got an important place in the Art history of Kerala.
The collection of paintings at Thodikulam, Mattannur and Pariyaram belonging to the Kottayam Rajas and paintings at Kuttippuram, Purameri, Kaliyamvalli belonging to the Kadathanad Rajas etc. can be treated as part of the chain of Artistic history of Thalassery. At the vadakkedam temple of Thiruvangad, there were beautiful ancient mural paintings belonging to the Kerala School of Mural Art. In the renovation of the temple taken up a few years back even the remaining paintings were lost. With the available evidence it could be concluded that even in the walls of Sree Rama Temple at Thiruvangad there were ancient mural paintings.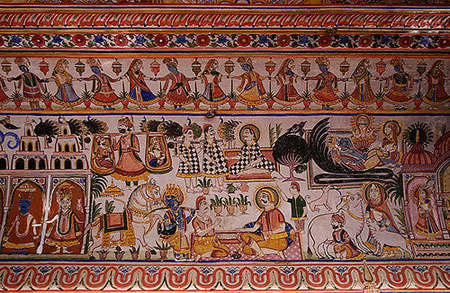 Some live Mural Paintings blossomed out of the minds of ancient Artists who had no right to enter the temples on those days, can be seen at the walls of Muzhappilangad Bagavathi Temple. These local paintings experts were the followers of the Kerala School of Mural paintings in their themes and outlook.
The wood carvings at the 'Balikkal Mandap' in Jagannath Temple, a temple consecrated by Sree Narayana Guru, are an excellent testimony to the skills of Pariyaram sculptures. The colour designs of these sculptures were done by Sreeraman, famous artist and founder of Cochin Arts School. These colour designs have directly or indirectly has taken part in the contemporary artistic styles of Thalassery.
In line with the European practices, the Christian Churches in Thalassery adorns European model goddess sculptures and stained glass paintings. The colour glass painting at the Protestant Church, which was constructed in 1869 by Lord Napier near Thalassery Fort, is very beautiful. Such art works could be seen in many Muslim Houses and serves as a memorial for our trade relations with the Europe in those days.