Bekal Fort
Bekal fort, the largest and the best-preserved fort in Kerala, lies 16 Kms south of Kasaragod on the national highway at the northern tip of the state. The fort, a circular imposing structure of laterite rising 130 ft. above sea level, stands on a 35 acre headland that runs into the Arabian sea.This fort is more than 300 years old and is believed to have been built in the 1650's by Sivappa Naik of the Ikkeri dynasty.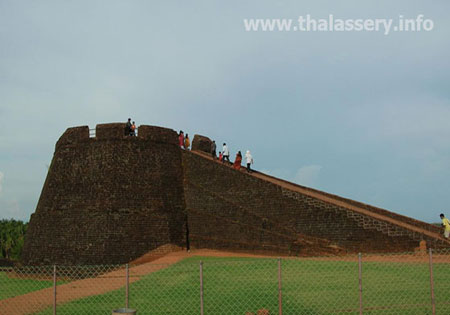 There is also another belief that it was originally built by Kolathiri Rajas and later captured by Sivappa Naik. The fort was occupied by Hyder Ali of Mysore in 1763 A.D and then the Huzur of Canara during Tipu Sultan's reign and later by the British.
In the middle of the fort is the observation tower approached by a broad and wide flight of stairs. The structure, around 80 feet in circumference at the base and more than 30 feet high, affords a magnificent view of the sea on three sides and the green landscape to the east. There are many underground passages leading outside from various parts of the Fort. Two of them still remains intact, one leading to the south of the fort and the other to the moat on the east.
Today, the Bekal Fort and its surroundings - there are backwaters and hill destinations and water sport facilities nearby - is a favourite shooting location for film-makers.