St. Angelo Fort (Kannur Fort)
Don Francisco De Almeida of Portuguese constructed this fort in the year 1505. The Dutch captured the fort from Portuguese in 1663 they sold the fort to the king Ali Raja of Arakkal kingdom. In 1790 the British seized the control over this fort and became one of the important military centres of the British in Malabar.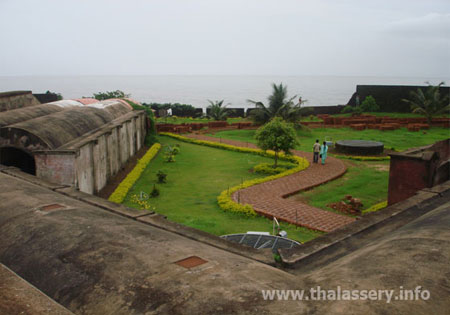 Inside St.Angelo's fort, many people believe that there is a secret tunnel. This tunnel was built underneath the sea to the Thalassery Fort which is 21 km from Kannur fort. This under passage is said to be used by soldiers to escape.Grilled off from the general public, the percieved entrance is located 10 metres from the shore within the walls and is understood to be able to provide a potential escape route to horse-mounted soldiers with channels at regular points to provide air circulation.
A painting of this fort and the fishing ferry behind the fort can be seen in the Rijksmuseum in Amsterdam. The fort is now under the supervision of the Archaeological Survey of India.