Andalur Kaavu, Andalur
Though it is difficult to estimate the age of the Andalurkavu, it is one of the oldest temples in Kerala. There are no historical recores to prove the age of the temple.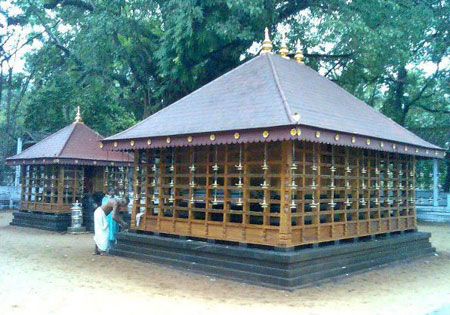 The deities in the temple are those of Sr Raman, Lakshmanan and Hanuman. This is a temple dedicated to Srirama as parts of the Ramayana such as SundaraKanda and Yudhakanda are reflected here. But then as Padmashiva is also worshiped alongside Srirama, one cannot say that this is a Srirama Temple. Once the festival starts at the temple on Malayalam month Kumbam 1 (Normally February 13), all residents of Dharmadam become vegetarians for a week, old people lead commuity life. People greet vistors with puffed rice (Aval) malar and bananas.

The God Srirama's deity is built facing the Cheraman Temple. During the rule of Cheraman Perumal the idol of Srirama went missing and was later found by the people from the Melur River says a legend. It was later installed in the temple.

During the traditional dance here the grove below the temple is considered to be Lanka in the Ramayan. Bows and Leaf umbrellas are used to symbolise the Ramayana war during the possession.