V P Sathyan
Vatta Parambath Sathyan, known popularly as V.P Sathyan was born in April 29, 1965. His parents were Vatta Parambath Gopalan Nair and Narayani Amma. He was married to Anitha and had a daughter, Athira.
He was a captain of the India national football team.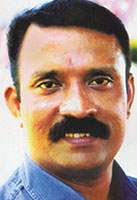 An Assistant Manager with the Indian Bank football team, Sathyan had served the bank since 1995, initially as a player and then as the team's coach from 2002.
A centre back, Sathyan started his career in 1983 representing Kerala in the Santosh Trophy National championship. He attended the South Zone camp for Indian probables under Amar Bahadur in 1985. Strongly built and a capable defender, he did enough to get into the National team to the 1985 SAF Games in Dhaka.
It was in 1986 that his career began to flourish as he represented the country in the Nehru Cup in Thiruvananthapuram and the Seoul Asian Games.
The late eighties brought forth some of his glorious moments. Sathyan's exploits with the once formidable Kerala Police team are well documented in the Indian football's history. From Kerala Police, he went to Mohun Bagan in 1992-93 for two seasons before returning to Kerala Police again and then moving over to Indian Bank.
Sathyan became the captain of the Indian team in 1991 for the World Cup qualifiers in Beirut and Seoul Sathyan was adjudged the AIFF player of the year in 1995, and that perhaps was the highest recognition for this largely unsung hero of Indian football. He had begun to make a mark in coaching, and was assistant to Stephen Constantine in 2002 when India toured South Korea.
Due to financial problems he committed suicide by jumping in front of a train in Chennai on July 18, 2006.