Vineeth
Vineeth is an Indian film actor and classical dancer known for his works predominantly in Malayalam cinema and Tamil cinema. He was also starred in Telugu, Kannada and Bollywood films.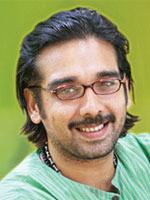 Vineeth is born ( 23rd August 1969) toAdvocate K.T.Radhakrishnan and Dr.Santhakumari. He has won prizes in Bharatanatyam, Mohiniyattom, folk dance, mono act and English resitation while he was studying in St. Joseph's Boys' High School. He won first prize for bharatanatyam dance at the state youth festival four years continuously. He pursued bachelors in commerce from Madras University in 1991.
As a dancer he has visited various countries like Gemany, England, France, Netherland including seven Gulf countries. He came to the film field while studying in Xth standard at St. Joseph's Boys' High School. His films like Nakhakshathangal, Kamaladhalam, Sargam etc are ever memorable.
His latest films are kumbasaram and 100 days of love.
Vineeth married Priscilla Menon and lives in Chennai . They have a daughter named Avanthi Vineeth.