Major General T Padmini
Major General T Padmini born at Mannayad, Thalassery.
In 1967 she got the military nursing selection. After that she enrolled at the Indian Naval Hospital Ship (INHS) Ashwini in Mumbai.

After nearly four years of service, she chose to focus her attention on serving children. With this in mind, Ms. Padmini pursued a diploma in paediatric nursing in 1975, rendering the following 18 years of her service to children at the military hospitals in Pune, Kanpur, Delhi, Ahmedabad, and Chandigarh.

In 1992, Ms. Padmini underwent a course in hospital administration, making her the principal matron of the military hospitals all over India. She was promoted to the rank of Lieutenant-Colonel in 1993 and colonel in 2000, when she was working in Jammu.
The post of Deputy Director-General was the next she adorned while serving as hospital in-charge of the whole Western Command at Chandigarh. The highest rank of Major-General awaited her and she was posted at the Army Headquarters, Delhi, as the Additional Director-General.

Her long career in the Military Nursing Service made her the first woman Major-General from Malabar.
In 2009, she received the National Florence Nightingale Award from President Pratibha Patil. Later, she received the Sena Medal from the President for her distinguished services in the Indian Army.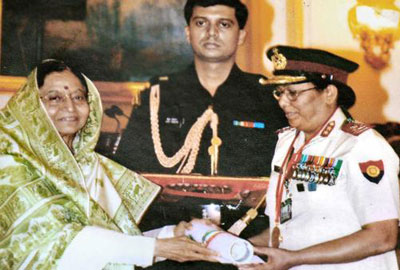 Major-General T. Padmini receiving the National Florence Nightingale Award
from President Pratibha Patil in 2009.
She has contributed towards awareness programmes aiming at safety of girl child, elderly care home and modernisation of military hospitals in the country. She is the first ever Nurse who has visited UN Mission hospitals at Congo and Lebanon to obtain first hand information on nursing care facilities provided to International clientele.
After her retirement in 2010, now she is working as a Nursing Director at Baby Memorial Hospital, Calicut.