Swami Anandateerthan
Swami Anandateerthan was a great social reformer who was even preapred to make the Harijans take up arms to fight discrimination. He followed the footsteps of Shri Narayana Guru and took off from where the Guru started. Swami Anandateerthan was born in Ananda Shenoy on God Saraswath family. He passed his B.A. Honours course with high marks and was attracted to the freedom struggle. As per the instructions of the Chakravarthi Rajagopalachair he joined the Shabari Ashram in Chavakad.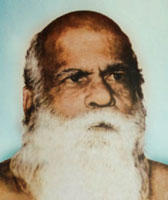 He was beaten up by Upper Caste Hidnus in 1927 when he led a group of lower caste children to a temple celebration near the Ashram. The Swami soon realised that caste and untouchability were the corner stones of Hindu religion. During a trip to Sabarmathi Ashram he reached a place in Ratnagiri in Maharashtra. The lower castes did not want to give him water as he belonged to an Upper caste and also discouraged him from drawing water form their well. The upper casts seeing him coming from a Harijan colony refused to give him water. FInally a muslim family gave shelter and food.
In 1928 Dharma theertha Swamigal got him a message from Shri Narayana Guru that he should reach Shivagiri as soon as possible. On August 3 Anandateerthan became the disciple of Shri Narayana Guru. He also received the Anandateerthan from Shri Narayana Guru. He was also the part of the rally led by AKG during the Guruvayur Satyagraha.
There are not many sanyasis in India who have been tortured like him. In 1934 Gandhiji visited his Ashram and planted a mango suppling which has became a big tree. In 1917 Anandateerthan visited the Durga Parameshwari Temple and was severely beaten up by upper caste youth. A friend resursed him when the youth went to fetch petrol to burn him. He also went on a strike demanding that a feast for only Brahmins in Guruvayur temple should be stopped. With caste discrimination continuing even today there is still the need for a lot of Anandateerthans.