Sreenivasan
Sreenivasan is an Indian film actor and screenwriter known for his work in Malayalam cinema. He has written for over 50 films and has acted in over 200 films. He has also directed and produced two films each.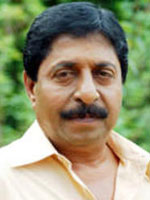 Sreenivasan was born in a small village of Patyam, to the east of Thalassery in Kannur, northern Kerala on april 4, 1953. His father Unni was a school teacher, an active Communist, and his mother Lakshmi, a homemaker. He completed his formal education in Government High School, Kathiroor and Pazhassi Raja N.S.S. College Mattannur. He did a diploma in film acting from the Film Chamber Institute, Madras in 1977 where Rajinikanth was his senior by a year.
Sreenivasan entered film industry in the 1977 P. A. Backer movie Manimuzhakam after finishing a course in acting from the Film Chamber Institute. In the film institute he was coached by the then vice principal A.Prabhakaran and later gave him a role in his movie Mela. A few movie roles later, he wrote his first film Odarathuammava Aalariyam in 1984. His most famous movies as actor-writer include Varavelppu, Gandhinagar 2nd Street, Nadodikkattu and its two sequels, Pattanapravesham and Akkare Akkare Akkare. He also made his mark as a director with his two award winning movies - Vadakku Nokki Yanthram and Chinthavishtayaya Shyamala.
Sreenivasan is married to Vimala and they have two sons. His elder son, Vineeth Sreenivasan, is a director, lyricist, singer, director, dubbing artist and actor. His younger son, Dhyan Sreenivasan, made his debut in Thira, a thriller movie directed by Vineeth Sreenivasan.