Sarada Krishna Iyer
Sarada Krishna Iyer was born on 10th November 1925 in Devakottai to District Judge P.V. Parameshwar Iyer and Kamalabai Ammal. She had flair for music and for sport activities even as she was a student. She was married in January 1941 to V.R. Krishna Iyer who was then practicing as an Advocate. There is a saying that behind each man's success there is a woman. This was true in the case of Justice V.R. Krishna Iyer. In his distinguished and dedicated career in the various fields of public service, she was his key supporter and a motivating factor.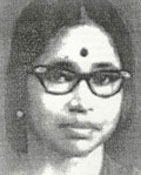 She was a source of strength for her husband V.R. Krishna Iyer in his in his multi-faceted career as a distinguished Advocate, Politician, Administrator and Minister, Socially responsible judge and above all in his life as a Humanitarian. She was a great support to her husband and she used to associate in the election campaign for her husband. Sarada Krishna Iyer had been a gentle person, loving and lovable, a versatile genius, a patron of fine arts and sports, vivacious and happy-go-lucky.
She had served as a member of the Managing Committee of the Kerala Fine Arts Society and also as a Member of the Audition Committee of the All India Radio, Trivandrum and Delhi.
She had always been simply, elegantly and tastefully dressed. Style in her dressing depicted her character and mission in life- Simple, elegant and in harmony with her personality.
She had led women's organisations to help affected people at the time of national emergencies, natural disasters and epidemics. She had also worked as a president of the Kerala branch of the 'Dakshin Bharath Hindi Prachara Sabha'. She was an active worker of the Indo-Soviet Cultural Organisation and World Peace Organisation. She had also participated as a delegate in the world peace conference held at Stockholm in 1958. There are not many who have worked for the destitute women in Kerala like her. People can only remember her with gratitude for the social service she rendered in her life time.
Swami Vivekananda said that a person having qualities of truthfulness, dutifulness, and compassion can be called a good human being. In that sense, Smt. Sarada Krishna Iyer was a truly good human being. She was humane, compassionate and never got influenced by social and cultural barriers. She carried out social service silently. She would provide solutions to any problems posed to her. She was endowed with qualities of extra ordinary intelligence, energy and skills.
She firmly believed in the maxim 'when thou doest alms, let not thy left hand know what thy right hand doeth' She never wanted to take credit for the good deeds and she believed that no one should know her helping someone.
She was very much interested in playing shuttle cock and loved playing table tennis.
The destitute homes for the women at Thalassery and Ernakulam established for the protection of the downtrodden women, serves as a monument for her selfless service. She lives through them even today.