Sanjayan
The popular atirist of Malayalam Literature, Sanjayan was born at Othayoth house at Thiruvangad near Thalassery on June 13,1903. Sanjayan was his pen name and his real name was Manikkoth Ramunni Nair.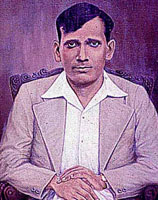 He was a Lecturer in Christian College, Kozhikode. His writings include anthology of poems like 'Adyopaharam', 'Hasyanjali'. He also wrote a collection of satirist essays. He was the editor of the magazine 'Viswaroopam'.
He is not only a great humourist but also a socio-political commentator who wrote with felicity on a wide range of subjects, that too in a language that sizzled with humour.
He died on September 13, 1943.