Pinarayi Vijayan
Pinarayi Vijayan was born on 21 March 1944 in Pinarayi, Thalassery. He is the Chief Minister of Kerala. He is an Indian politician and a member of the Politburo of the Communist Party of India (Marxist). He was General Secretary of the Kerala State Committee of the CPI(M) from 1998 to 2015.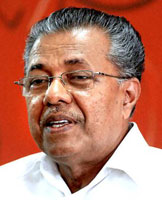 After passing out of school, he worked as a handloom weaver for a year before joining for Pre – University course in the Government Brennen College, Thalassery. Later he completed degree course from there.
Pinarayi Vijayan entered politics through student union activities and eventually joined the Communist Party in 1964. He was president and secretary of the Kerala Student's Federation (KSF) and also served as the president of Kerala State Youth Federation (KSYF). He was elected to Kerala Legislative Assembly in 1970, 1977, 1991 and 1996. Served as minister in Kerala government between 1996 and 1998.