O Chandu Menonb
Oyyarathu Chandumenon born on 9 January 1847. He was a Malayalam novelist who wrote Indulekha in 1889, the first Malayalam fictional work which met with all the requisite characteristics typical of a novel according to a widely accepted Malayalam literary convention. It is not the first novel per se, as Kundalatha (a much inferior work) by Appu Nedungadi pre-dates it by a year.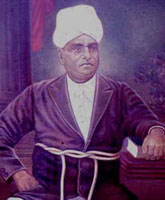 Chandumenon got his English education at the school level. He began his career as a clerk in the government service. William Logan, author of the Malabar Manual appointed him as a clerk at Sub-Collector's office. Through a series of promotions, he became a municiff, and in 1892 became the sub-judge of Calicut.
He began a second novel named Sarada, the first part of which appeared in 1892. Chandumenon made important contributions as a social reformer. He was a member of the committee constituted to inquire and report on the Malabar Marriages Bill. His observations on matriliny among Nairs and polyandrous matrimony of Nair women that prevailed during the time are of historical importance. He was bestowed with the title of Rao Bahadur in 1898 for excellent service. Chandumenon died on 7 September 1899.