M V Devan
MV Devan, Born at Panniyannur, Thalassery in the year 1928. He was popularly known as Devan Master among artists and cultural activists in this part of the region, had been a familiar face in the art and cultural life of Thalassery till his age-related health condition worsened. He was the Secretary of Madras State Lalit Kala Academy and Art Consultant for FEDO (FACT), Honorary Director of Kerala Institute of Arts, Director of Kerala Kalagramam, the artists' village in Mahe. He also served as Chairman, Kerala Lalit Kala Academy. He was awarded the Ravivarma Puraskar by the Government of Kerala and was also conferred the Mathrubhumi award.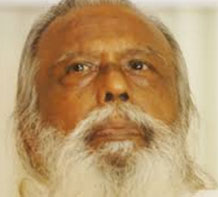 He has executed murals for various hotels in Kerala. His collections are preserved in Dr. Sommerville collections UK, Asian Foundation, USA, FACT, Kerala and the Madras Christian College, Chennai. It was Devan Master who had given a new direction to the field of painting and sculpture in Kerala.
The artist and sculptor who made his mark in the field of illustration died on April 29, 2014.