Moorkoth Kunhappa
Murkoth Kunhappa was a bureaucrat-turned-journalist, born on May 14, 1905 as eldest son of Moorkoth Kumaran. Kunhappa who was a humorist had regularly contributed columns to all the news papers in Malayalam.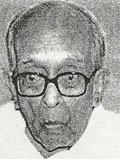 He was also an essayist like his father. He got awards for his works 'Urulakkupperi', 'Kadalassinte Katha', and 'Moorkoth Kumaran'.
He has written a very famous English novel Three bags of gold and other Indian folk tales which is referred by many American universities as children's novel.