TM Moidu Sahib
When the modiu bridge on the Thalassery-Kannur National Highway closed for 150 days for repair the hardship to the people was immense. It was then that they remembered the name of the bridge builder.

It was T.M. Moidu Sahib of the Thylakandy Mukkatill Tharavad who built this crucial link between Thalassery and Kannur. He went to Madras at an early age in connection with family business and started his own Timber company. He was attracted to social service and was elected as the Member of Madras Legislatve Council from Malabar Muslim Constituency in 1923.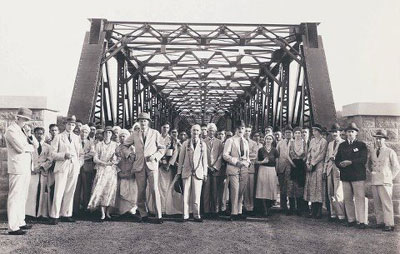 Inauguration of Moidu Bridge, Dharmadam
He was also chosen President of the Malabar District Board by the government in 1931. He was honoured with the Khan Bahadur Shahib title. He was interested in constructing bridges and roads in his town. The bridge built near Dharmadam core was named Moidu Bridge by the British. Moidu Sahib died at the age of 51 in 1940. The bridge remains intact even today.