Kodiyeri Balakrishnan
Shri Kodiyeri Balakrishnan, son of Shri. Kunjunni Kurup and Smt. Narayani Amma born at Thalassery on 16th November 1953.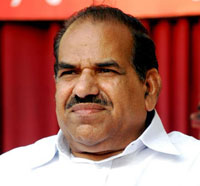 Entered in politics while a student, was an active worker of SFI. He was State General Secretary of SFI from 1973 to 1979 and President, DYFI Kannur District Committee from 1980 to 1982. He was arrested under MISA and imprisoned for 16 months during Emergency. Elected to the Kerala Legislative Assembly on five occasions - 1982, 1987, 2001, 2006 and in 2011 from Thalassery constituency. He was Dy. Opposition Leader in 2001. He was Minister for Home and Tourism, Government of Kerala from 2006 to 2011.
He has been Secretary of the Communist Party of India (Marxist) Kerala State Committee since 2015.