P S Karunakaran
PS Karunakaran born in 1937 at Thalasserry, Kannur District, Kerala. Studied Fine Arts under the eminent artist Sri. C V Balan Nair. Attended courses in graphics and lithography at the College of Fine Arts, Madras.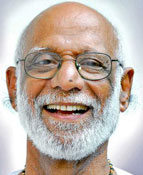 He was the Principal of Kerala School of Arts, Thalassery for 32 years. He designed the exhibition gates for the All India Exihibition conducted by the Sharada Krishna Iyer Fine Arts Society. He got Puraskara Pathram for commendable work in the field of art by Kerala Chithrakala Parishath in 1996. He was honoured by the Lalithakala Academy in 2006 and as 'Renowned Artist' by Indian Medical association, Thalassery in 2003.
He died on 8th April 2015.
For more info visit his personal website : www.pskarunakar.com