Kamala, Suguna and Swarna
The sisters of the Vaidyar family in Thalassery are a shining example of revolutionary spirit at a time when the fire of freedom was raging in the minds of Indians. They were Suguna, Kamala and Swarna who were the daughters of Dr. Kunhikoru Vaidhyar and Panoli Manikoth Rohini. Dr. vaidhyar associated with the freedom struggle in 1930s when he was practising in Mumbai.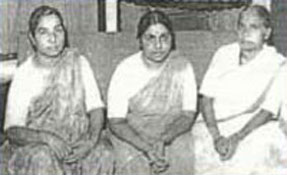 Kamala was at the forefront boycotting foreign goods and picketing liquor shops. When he was imprisoned Dr. Vadidhyar sent his diaughters to Kerala to lend strength to the freedom movement. Kamala who participlated along with Pothari Madhavan in the political movement in North Malabar was sent to jail for six months.

Her sister Swarna was also imprisoned for six months. The brave acts of the three sisters came in for praise from the great Kelappan. During the Guruvayoor Satyagraha AKG was arrested. Kamala was selected by the Satyagraphis to lead the movement. She later joined the trade union movement under S.A. Dange. While Kamala married Shankar Rao Kombrabale Swarna married industrialist Kayath Damodharan. Railway employee Kirshnan was Sugana's husband. The efforts of these three sisters are commendable as they came at a time women's participation was very less in the freedom movement.