K Raghavan Master
K. Raghavan Master is a Malayalam music composer. Along with Baburaj, Raghavan Master is often credited for the renaissance of Malayalam film music. He was born to folk singer M Krishnan and Narayani in Thalassery on 2 December 1913. He was influenced by the folk tunes while growing up in Thalassery. He joined All India Radio at Kozhikiode which had a circle of cultural people at that time.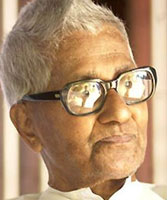 In a career spanning over four decades, he has scored music for more than sixty Malayalam films and many of his compositions remain ever green classics in Malayalam.
K. Raghavan Master gave a new direction and identity to Malayalam film music. `Neelakkuyil,' released in 1954, gave Malayalam cinema a new direction and it also gave Malayalam film music an identity of its own.
He got Kerala State Film Award for best music director in the year 1973 & 1977. He got J.C. Daniel Lifetime Achievement Award from the Government of Kerala in the year 1997 and Lifetime achievement award from Asianet in the year 2000.
In 2010, India Government honoured him with Padma Shri for his distinguished contribution in music.
Some of his best songs include 'Kayalarikathu', 'Engane nee marakkum', 'kathu sookshichoru', 'Nalikerathinte nattil' etc.
He died at the age of 99 on 19 October 2013 in Thalassery.