Dr. E K Janaki Ammal
Dr. E.K. Janaki is a giant in the world of science. She obtained her Doctorate in Science from Michigan University and was also awarded the LLD at the same university for her brilliant contributions to research. She was shining light in the field of research in India and England. Dr. Janaki was the daughter of diwan E.K. Krishnan of Chettiamkunnu who was also a sub judge. She did her graduation and post graduation from Queen Maries college in Madras and then worked as Lecturer at Women's Christian College at Madras. After getting a Research Membership she went to Michigan University where she got a Doctorate in Science.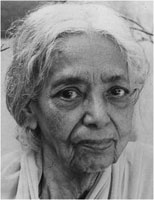 On her return she was appointed as Professor at the University College, Trivandrum at the age of 34. She later left the job and joined the Sugarcane Research Institute at Comibatore to engage in research. She created a new form of sugarcane called SG 6332 through breeding experiments which was very sweet. She presented her achievements at the Edimborough Geneticist Conference in 1939. The new breeds she created had now grown in our land.

Nehru met her in England and invited her to come to India. She agreed for it and was appointed as special officer in the Botanical Survey of India. The book "The Chormosam Atlas of Cultivated Plants' authored by her and Dr. Darlingten is still a reference book for the PhD Students.
She died while working at Maduravayal University Laboratory, Madras. She reamined unmarried as she felt family life would interfere with her research activity. In 1977 the Indian Government honoured her with Padmashri.