Herman Gundert
Dr. Herman Gundart who stayed at Illikkunnu for more than 20 years, is a pride of Thalassery. This German missionary who lived in Thalassery wrote the first English-Malayalam translator dictionary. He was born in Stuttgart on February 14, 1814 and came to India as a Christian missionary. He studied history and religion from Tubin University and got doctorate from Switzerland. In 1834 he become a member of Basal Mission. Basal Mission Society was his motivation for coming to India. He studied Hindi, Bengali and Tamil in early day itself.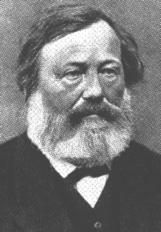 From 27th February 1839 he started staying at Illikkunnu, a place near Thalassery-Anjarakkandy road. In 1939 he started a school in the Bungalow. He was the first school inspector for Malabar and South Karnataka. In 1847 first Malayalam news paper 'Rajyasamacharam' started from Thalassery.
Dr. Herman Gundert died on April 25 1893.