Nettur P Damodaran
Shri Nettur P. Damodaran (14-05-1913 - 11-10-1978) was born to Shri K.P Kunhikannan and Smt. Thalu in Nettur, Thalassery. He was a member of the 1st Lok Sabha (1952) from the constituency of Tellicherry, which was part of the Madras state. Nettur P, as he was popularly known, had established his own image as a good Parliamentarian, journalist, philanthropist, reformer and writer.

He graduated in Physics from Madras Christian College and it was here that his public life started when he was elected as the first elected Student Union Chairman of the College council in 1935.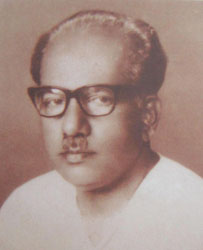 Shri. Nettur P Damodaran had for a brief period worked as a journalist, first in Free Press Journal and later for Mathrubhumi in Bombay as correspondent. He was also editor of 'Dinaprabha', a Malayalam daily published from Calicut in early 60s. From 1963-66, he held senior position in the Home ministry, Government of India, as Officer on Special Duty for the welfare of Scheduled Castes and Scheduled tribes, which gave him opportunity to travel extensively all over India. His experiences during these travels gave enough material for his literary incursion in the form of a travelogue - Narmadayude Naattil (In the land of Narmada). Several other travel experiences were published serially in Malayala Manorama weekly in late 60s. In 1967, he was appointed as the Chairman of Backward class reservation commission by the Left Democratic Front.
He was conferred with the honorary "Thamrapathra" on the Silver Jubilee of Indian Independence by the then Prime Minister Indira Gandhi(1972) in recognition of his sacrifices towards the independence struggle.