C K Govindan Nair
C.K. Govindan Nair who was also known as C.K.G, was the outstanding contribution of Thalassery to Kerala politics. He was committed to democratic principles and was a giant in both stature and size. Born in a landlord family, he still learned about the adverse effect of British rule on Indian Society. After doing his primary education he joined Brennen College. He became a student activist and was suspended from the College. He them left Thalassery and went to Madras where he studied at the Christian College and Pachayyappas college. After completing his law education he became attracted to Gandhiji and participated in the boycott of foreign clothes.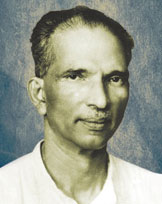 He met Gandhiji in 1933 and accompanied him to many places and the same year he became the Secretary of Malabar Congress Committee. In 1942 he was sent to jail for three years for participating in the Quit India Movement. He was also became the Member of the Madras Assembly from fighting the election from Quilandy in 1946. In 1950 he was elected for the KPCC and defeated K. Kellappan in the election to the President's post. When the congress split in 1952 and the Kisan Mazdoor Praja Party was formed. Kellappan and other joined that party. It was CKG and Kozhiporath Madhava Menon who ensured that congress remained strong despite the split. In the first Parliament election he fought against AKG in Kannur and lost. After EMS Namboodiripad became Chief Minister in 1957 Kerala witnessed a great struggle against communist. C.K.G was arrested under section 144.
CKG also started a newspaper called Janavani which resulted in a big loss. In 1960 he was selected KPCC President and rose to National fame. He was a favourite leader of Jawaharlal Nehru and he was also nominated for the Congress working committee. He also served as Director of the Indian Oil Corporation and Director Board Member of the Patriot Group of Newspapers. He died on June 27, 1964.