Dr. M K Vainu Bapu
One of the comets which appear and disapper in the sky is named Bapu, Bork, Newkark, Comet. This comet is named after a great astro physicist from Thalassery who reached international fame. Dr. Vainu Bapu also served as Chairman of the World Astronomical Conference in USA and as President of the International Astronomy Union. He was also the director of Indian Institute of Astro Physics.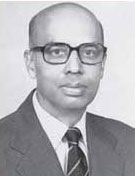 Dr. Vainu Bappu was born on August 10, 1927 as the only child of Manali Kukuzhi and Sunanna Bappu. He graduated in Physics from the Nazamia college in Hyderabad and after completing his post graduate studies joined Harward University to do research in Astro Physics. While studying Astrophysics a new comet came to his notice. The new comet was given his name and the name of two western Astrophysicists.

He was also awarded a doctorate by Harward university for his studies on "Wolfriot Group of Stars".

He later retured to India to work as Director of Banaras Observatory. He also wored at the Kaviyur Observatory in Tamilnadu. In 1986 the them Prime Minister Rajiv Gandhi named Kaviyur observatory after Dr. Bappu. He was also the recipient of Padmasri Award. He died in 1982 while preparing to participate in the 18th General Assembly of the International Astronomical Union.