A C N Nambiar
Arathil Candeth Narayanan Nambiar (ACN Nambiar) was an Indian Nationalist and a friend and colleague of Subhas Chandra Bose. He was born in Thalassery in the year 1896. But he spent much of his life serving the Indian Independence movement in Europe.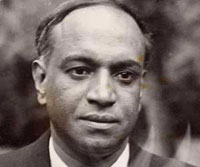 He was the fourth son of writer Vengayil Kunhiraman Nayanar and Arathil Kandathil Kallyani Amma. He married Suhasini Chattopadhyay, the sister of Sarojini Naidu, and the first woman Communist member of India in 1919. Later they separated.

ACN Nambiar had been working in Europe as a left-wing journalist for some time when the Second World War broke out. In the 1930s he had been beaten up by Nazi stormtroopers, imprisoned, and then deported to Prague. At the outbreak of war he was working in Paris.
In January 1942 he joined the Free India Centre as second in command to Bose. This organisation was set up by Bose to promote Indian independence and to assist the enemies of the British empire.
He was imprisoned after the war for collaboration with the enemy. He escaped to Switzerland and, against the wishes of Britain, was given an Indian passport by Nehru's Interim Government. He then worked as a counsellor at the Indian Legation in Berne. He was appointed Indian ambassador to Scandinavia, then, in 1951 he was appointed the first Indian Ambassador to the Federal Republic of Germany. He was awarded the Padma Bhushan in 1958. ACN Nambiar finished his career as European correspondent of the Hindustan Times.