A P Achuthan Master
Artist A.P. Achuthan's name is written in golden letters in the history of Thalassery. People in the new generation may not know much about him. He achieved fame both at National and International level as great puppet artist. Achuthan Master passed SSLC from Brennen High School. He started working as an art teacher. Lot of of people used to come and see the puppets he made and displayed. The Thachoti Udayanan and Kungi Puppet show even earned him a place in Times of India.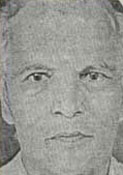 Achuthan Masters creations, a remote-controlled (auto-lady) lady was displayed at an International Exhibition in Delhi at 1959. But he did not get anything from his exhibition and he has to pay half of his income as tax. He has also created statues of Gandhiji, Nehur and Shri Narayana Guru. He was also earned fame for creating a statue for Yesudas.

His book of black board drawings which was printed at the Kannur Co-operative Press became a basic text for students of art. Thouhg he earned great fame he was never arrogant. He died on December 1980.