C V Balan Nair
Artist C.V. Balan Nair believes that spirituality is the essence of all art. He also believes that fame and money can only make the artist arrogant. Balan Nair studied at Thalassery Brennen High School. He was more interested in art in school days. He used to use turmeric line, blue and plant colours to work on his paintings. He painted Theyyams, Bhagavathi and Kuttichatan and gift the paintings to his friends.
Balan Nair completed his school education with great difficulty because of the bad economic condition of his family. After his studies he learnt Kalaripayathu and used to perform at several Kalaris. He also read a lot of books on Swami Vivekananda. A meeting with artist M. Raman who established 'The Cochin School of Arts' was an eye openener for Balan Nair in 1925. He started using canvas for his paintings after this encounter.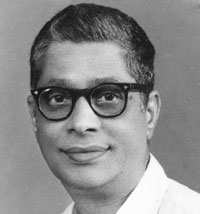 Later, Balan Nair went to Thiruvananthapuram in 1930 where he created a lot of works with the help of Panambrath Kelappan who provided him food and lodging. In that period Sanjeyan became an associate of Balan Nair and they used to do outdoor paintings. Later Balan Nair returned to Thalassery where he taught little children art. He also started an art school.

In 1939 he was appointed Art Teacher in Thalassery Brennen High School. He married Thangamma in the same year. Children from various parts of Malabar used to come to study at the art school. With the death of his brothers Karunakaran Nair and Narayanan Nair the responsibility of taking care of the wives and children fell on Balan Nair. In accordance with the wishes of his brother, he also started Kalari displays at various places.

He conducted 120 Kalaris in the name of his brother Narayanan Nair in various places. In 1958, the silver jubilee of the Arts School was celebrated with great fervour. Balan Nair once travelled in Mumbai and Kolkatta and sold some of his paintings there. He also met Gemini Roy and learnt about his concepts. In 1962 he was selected as Member of Kerala Lalitkala Academy. After retiring from school he became the Principal of Kerala School of Arts. Today he is not an individual but an institution.