The Keyi Destiny
The Keyis brought about the complete reformation in the economy of Kerala in the first decades of the 18th century. They establish links between Kerala and foreign countries in the commercial front. In Parsi 'Keyi' means Leader. The first of the Keyis, Alupikakka reached Thalassery from 'Chowa' near Kannur for commercial purposes. He exported copra, pepper, sandalwood, cardamom and other items to foreign countries and received a lot of encouragement from the Dutch. After he died his nephew Moosakakka became his successor. Moosakakka created canals in Alapuzha and has several boats in which he carried his commodities.

The 'Kolathiri' kings were very happy with Moosakakka and presented him some land and teak forest in Alapuzha. He constructed the 'Odathil Mosque' in Thalassery using the teak from these trees. Its roof is made of bronze and metal. Only the bodies of the keyis are buried here.Moosakakka made an agreement with East India Company. When he died his body was buried in the Odathil mosque. After his death the Keyis divided into four branches which are 'Vorkatari', 'Valiapura', 'Pudhiyapura' and 'Kaloth'. Mayankutti of the Valiapura branch was a scholar and wrote Quran Tafsir.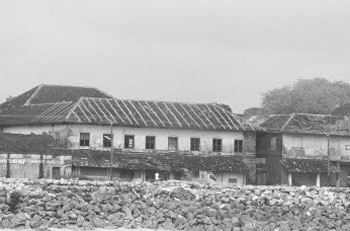 The Keyis have lot of wealth not only in Kerala but also in Tamilnadu, Karnataka and Mumbai. The Keyis also made marital ties with the royal family of Arakkal. The family members were constructed several mosques all across Kerala. Thalassery has benefited a lot from the presence of the Keyi dynasty.
The Keyi houses in Thalassery are examples of a distinct Kerala style architecture for house construction. A majority of such houses have disappeared in the last few decades. Though this could be attributed to the collapse of the joint family system, it also points to the extinction of a valuable architectural model.