Gandhiji in Thalassery
It is said that Gandhiji first came to Thalassery on August 19, 1920. This may not be right as he actually had come to Kozhikode along with Shoukath Ali to participate in the Khilayath Movement and stopped at Thalassery platform to talk to the people. Moyarati Shankaran wrote about this in his autobiography. "Both leaders stood at the door of the compartment and spoke to the people. Gandhiji's cheerful face, his thin body and his attire which hardly touch the knees attracted the crowds attention as did Shoukath Alis large size and his loud voice".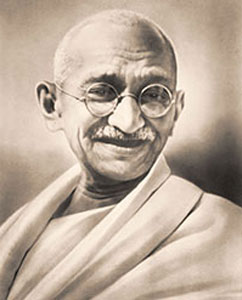 Gandhiji again visited Kerala in 1934. This was in connection with the unveiling of the photo of Mathrubhumi founder K. Madhavan Nair and his participation in Guruvayoor Satyagraha. Some leaders of Thalassery including T.V.N. Nair and Chandroth Kunjiraman Nair wrote Gandhiji requesting him to visit Thalassery also. His visit witnessed a protest by Sanadhani Dharma Parivakshiri Activist. He stayed at the house of Shir V. Narayan Nambiar. The treasurer of the Gandhi welcome committee Dr. T.V.N. Nair gave him a purse of Rs. 775 and one anna at the public meeting.
The speech of Gandhiji at Thalassery has been published as "untouchability within untouchability". Gandhiji started his speech like this "I thank you for the purse and your generosity. I have come here to request you to get rid of untouchability from your minds. He also contemned the atrocity at Ezhoth and spoke about the need to allow Harijhans into the temple. In Ezhoth the Nairs and Thiyyas had beaten up Harijhans for refusing to give paddy on the Tulapat Day. Gandhiji's next visit was to the french territory of Mahe.