Sarada Krishna Iyer Memorial Fine Arts

Sarada Krishna Iyer Memorial Fine Arts Society is a Society registered in 1975 to provide a permanent platform for social and cultural activities in Thalassery. Named after the late Sarada Krishna Iyer, wife of V.R. Krishna Iyer, the Society is also a memorial for the selfless and silent service rendered by this towering personality in the fields of arts, literature, sports and also in public services, service to the destitute and other humanitarian services.
The Society was inaugurated by former Chief Minister of West Bengal, late Shri. Siddarth Sankar Ray. The foundation stone for the Sarada Krishnaira memorial Auditorium, an initiative of the Society, was laid by the then President, Sri. B.D. Jatti, in Thalassery in the land allotted by Government of Kerala.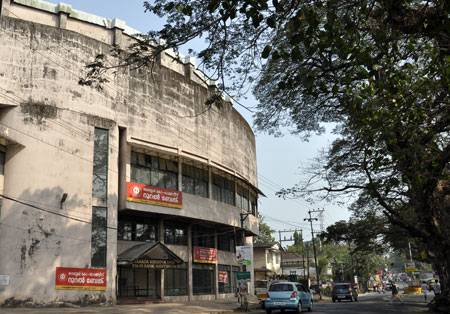 The stated objectives of the Society include promotion of the Fine Arts and Fork Arts, conduct of seminars on contemporary issues, organisation of programmes on classical music, dance, drama and other art forms.
The establishment of Sharada Mandir is the beginning of a cultural revolution in Thalassery. As old times know Thalassery evolved as a place for import and export of goods and the British made it as their commercial centrer in North Malabar. If this situation had continued, Thalassery would have become a major industrial city of Kerala. Unfortunately after Kerala was formed Malabar was divided into three districts and Kannur became the center of the Northern district. This was a big blow for Thalassery which remained a commercial center. The commercial activity in Thalassery is characterised by strong ties between merchants. Commercial transactions happened because of this faith in each other. A part of the profit from this commercial activity used to be spent on cultural programmes. In recent years such relationships in Thalassery have been spoilt. Cultural activity and commercial activity are strongly interlinked. The cultural revolution is now needed in Thalassery.