Kalari

'Kalari's were the places of education in ancient Kerala where mainly martial arts and physical training was imparted to the children. The practice in those days was to enrol children for the 'Kalari', once they completed their elementary education.
For learning Kalari payattu, the martial art, there were no sex differences. Both girls and boys were enrolled. The kalari payattu can be completed only after a continuous and strenuous practice of over five years.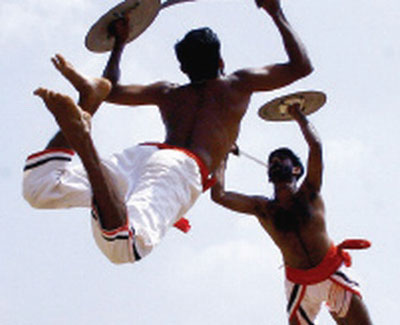 The famous historic duel between Kathiroor Gurukkal and Thacholi Othenan took place at Ezhara kandam in Ponnyam.
The unconquerable Kathiroor Gurukkal was defeated and killed by Othenan using 'poozhikadakan' considered an unethical move as per the tenets of martial arts code. The famous 'thacholi vadakkan' songs describes that Othenan was later shot and killed by Kathiroor Gurukkal's desciple, Chundangapoyil Mayan Kutty, when Othenan came back to the place of duel to take back his weapons which he had forgotten before leaving.
We can see the influence of Kalarippayattu in all the traditional visual art forms in Kerala including 'Koothu', 'Koodiyattam', 'Kathakali', 'Velakkali' and 'Kolkkali'. It is also believed that Kerala got its prominence in Circus because of the practice of the practice of 'Kalari' in these areas.