Thalassery - Judiciary
Thalassery courts have played an important part in the town's growth and its history.
Thalassery is the Judicial Head Quarters of Kannur Revenue District. Thalassery is the seat of the Principal District and Session's Judge, Chief Judicial Magistrate, Principal Sub-Judge amongst the others. So when the history of Judiciary in India is written, Thalassery's name will find a pride of place in it. The glorious, histroical, traditional and nostalgic era had the resilience and strength to continue unabated and uniterrupted to this day.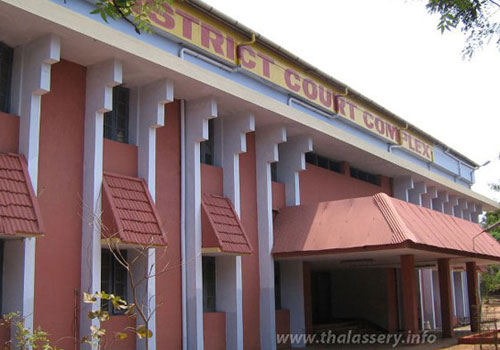 Thalassery Bar Association has a rich history and glorious tradition. It was started in the early 19th century and was formaly registered as a society under the Societies Registration Act. It has produced stalwarts both on the Bench and at the Bar. Legal luminaries like Diwan Bahadur Adv. T.C. Narayana Kurup, Adv. Damodar Rao, Adv. T. Narayanan Nambiar and Padma Vibhushan Justice V.R. Krishna Iyer were members.
The record room of the Thalassery courts has come in for high praise from Mr. Justice Mack of the Madras High Court and in open court bestowed high praise on the meticulous way in which a centuries old documents were neatly preserved in the record room. He particularly mentioned that where in at random asked for case of 19th century, it reached him in a few minutes.
Noted Malayalam writer Chandu Menon was a Judge at Thalassery when he wrote Malayalam's first novel 'Indulekha'.